Welcome to Shaver Transportation Company
Hiring Process
Shaver Transportation is an Equal Opportunity Employer. We only accept applications on-line, when we have posted an open position on our website. When hiring for positions on our vessels we hope to hire people who are interested in wheelhouse advancement with Shaver Transportation.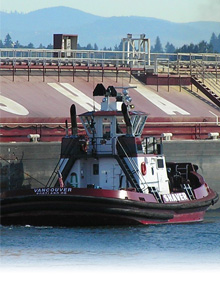 What to Expect if Hired

A pre-employment physical including successful completion of a Drug and Alcohol Test is required. In addition, new employees will be required to join the Masters, Mates & Pilots Union (MM&P). Also, employees will be required to obtain a Merchant Mariner Document (MMD) from the USCG and a Transportation Worker Identity Credential (TWIC) from the Department of Homeland Security.

Career Opportunities

Today, Shaver Transportation employs 90 dedicated and experienced people. We recognize it is the employees that have made Shaver Transportation a successful company. We continue to look for individuals who are motivated, reliable, and talented, with maritime career goals. If you are interested in a career at Shaver Transportation, please apply by clicking on the "Search For a Job" link below. If we don't have any openings, you are welcome to subscribe to our alert system that will notify you via e-mail when we do.
Please do not call our office. If you have questions or wish to inquire as to the status of your application, you may e-mail our company by using the link below.

Shaver Transportation
Attn: Human Resources/Ken Anderson
P.O. Box 10324
Portland, OR 97296-0324

Thank you for your interest in working with us.

Please click on the menu above to Search For a Job.